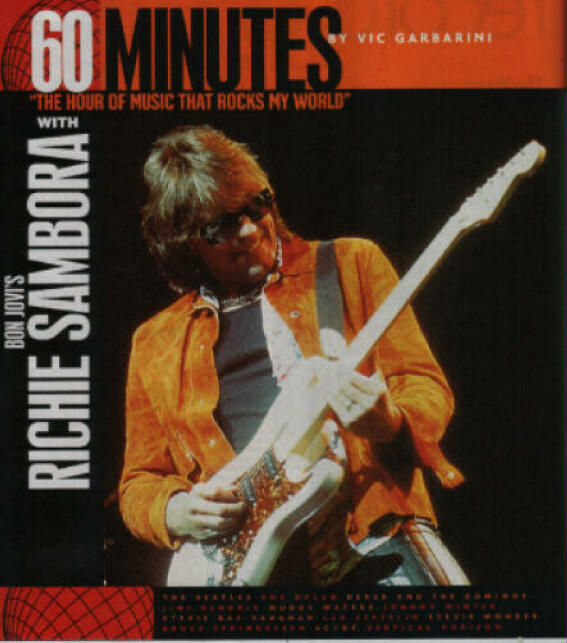 ---
When Bon Jovi broke into the mainstream with 1986's Slippery When Wet, many people pegged the group as just another hair band. More astute listeners, however, saw beyond lead singer Jon Bon Jovi's mop of curls and detected the heartland style of rock at the core of the group's sound. "We never felt like we were part of the hair band scene," say guitarist Richie Sambora. "We've always thought of ourselves as an American rock and roll band. And with good reason. Both Sambora and Bon Jovi drew inspiration for their music from America's quintessential rock and roll hero, Bruce Springtee, a fellow New Jerseyite who befriended the group. Jon Bon Jovi was like the Boss' headbanging brother, and he and Sambora wrote songs that, like Springsteen's, touched on themes that were deeper and more personal than what other rockers were doing at the time. The group disappeared during the mid Nineties when Jon Bon Jovi's acting career took off, but it came crashing back onto the charts with last year's Platinum "CRUSH", an album that displayed the same energy and commitments as the band's classic work. With the new live album "One Wild Night" Mercury, Bon Jovi proves it can still rock its ass off. Though most of the high-energy performances were recorded on last year's tour, it sounds like the work of a band half Bon Jov's age. The rejuvenated inensity is partly the result of the band members having cleaned up their act. "A couple of years ago we made a conscious decision to stop partying. Now I can actually remember being at the shows !" Sambora says with a laugh. He dismisses rumors that Jon's acting career may break up the band. "We've passed that point. As long as we're making relevant music and having fun writing songs people relate to, I think we'll always make records." Sambora's 60 Minutes choices reflect his passion for great blues-based guitar and songs that have emotional depth and relevance.
---
"IN MY LIFE" The Beatles-Rubber Soul Capitol 1965
"At the time this song was written, John Lennon was starting to express his innermost feelings in his music. The song has a melancholy feel, and it always takes me back to different periods of my life. When I hear it, I start to reflect on what I've had in my own life, where I've been and where I wanted to go. And even after hearing it so many times, I'm still impressed by the economy of the production and the arrangement on this song. Their producer, George Martin, did an amazing job."
" THE TIMES THEY ARE A-CHANGING" Bob Dylan - Columbia, 1964
"I was a young kids when I first heard this song, but it really hit me. Whether it was the politics of the time or just how everyone in the country was feeling, I started to feel the winds of change that Dylan sings about. He really captured that period of time. With this song, he made musicians realize that they could sing about their feelings. Dylan, and later the Beatles, made it safe for other writers to go out there and say something meaningful."
"LAYLA" Derek and the Dominos-Polydor, 1970
"Eric Clapton has always been one of my guitar idols. He played on my first solo album "Stranger in This Town, 1991), on a song I wrote about him called "Mr. Bluesman,' 'Layla was Eric's ode to George Harrison's wife, Patti, who Clapton was in love with and later married. At the time this came out, I was going through the angst of being a teenager and having my heart broken, so I related to the lyrics. The song itself is so well put together that it flows easily through a lot of different sections. It takes you on a ride and it never stops."
"ALL ALONG THE WATCHTOWER" Jimi Hentrix, Electric Ladyland-MCS, 1968 "The first time I heard this, I thought, God, nobody but Hendrix could be playing like that. His tones are just incredible, and each of the solos sounds like it comes from a different planet. It's tough enough to do a decent Dylan cover, but Hendrix took a three-chord Dylan song and made it sound galactic ! Jimi didn't think he had a good voice, but that's where he was wrong. He might not have been singing in tune all the time, but you believed every lyric the guy ever sang."
"MANNISH BOY" Muddy Waters, Muddy Waters Live, Columbia, 1977
"When I started going back and listening to my heroes' heroes, that's when I really got into Muddy Waters and Albert King and all those blues cats. On this live version of "Mannish Boy", Muddy really captures the vibe of those juke joints down South. It's a great song about a man growing up and coming into own and becoming a sexual giant ! It's a very empowering song. When I would get ready to go play a gig in the early days, this is what I'd put on."
"IT'S MY OWN FAULT" Johnny Winter, Columbia, 1971
"Johnny is the most underrated blues player of the past 25 years. On this song, he delivers what is, in my opinion, the perfect blues performances. Johnny has a Texas blues style that's more fiery than other Texas guitarists - he has just an unabashed sense of abandon. Thre's a little bit of Albert Lee in what he's doing, but it's the fast stuff that's at work here, pushin' and pullin' the groove."
"TEXAS FLOOD" Stevie Ray Vaughan-Blues at Sunrise-EPIC, 2000
"This is the version from the LIVE AT THE EL MOCAMBO sessions, and I think it's his best performance of the song. Stevie's up there in the Hendrix category for me. He had the blues deep inside. He couldn't get out of the groove - it all was just unconsciously coming out of him. He was living every note as it came. It wasn't planned - it just happened, and it was perfect."
"BABE I'M GONNA LEAVE YOU" Led Zeppelin, Swan Song, 1969
"I particularly love Jimmy Page's Spanish-style acoustic playing on this song. I grew up listening to Page, and I loved all that great acoustic playing he'd brought to rock and roll. I missed that sound in the Eighties when everything was so heavy. That's what inspired me to write "Wanted Dead or Alive.' I wanted to bring the acoustic guitar back to rock and roll."
"YESTER-ME, YESTER-YOU, YESTERDAY" Stevie Wonder, At the Close of a Century, Motown, 1999
"I listened to so much Motown as a kid. It was a big part of my upbringing, and it influenced my singing. In fact, I learned to sing harmony by singing Motown on the corner with my neighbors. Of all the Motown artists, Stevie was the most unique. Nobody can sing like him, and it seems to come out of him so naturally and with so much soul; he was so inside the songs. I used to love to sing along with his songs, and when I could sing half a verse or a chorus okay, I knew I was doing pretty good."
"BRILLIANT DISGUISE" Bruce Springsteen, Tunnel of Love, Columbia, 1987
"I always thought this album was his most personal work. We had become pretty big when this came out, and I guess I was going through a similar period as Bruce was: I was questioning a lot of stuff about myself and some of the decisions I'd made in my life. It was a reflective time for me, so I hooked up with this song because I felt like he was singing about what I was going through."
"BACK IN BLACK" AC/DC, Back In Black, Elektra, 1980
"If you want to have some fun, just put on some AC/DC and ROCK. They play unabashed rock and roll, with alot of energy. And the riffs are just ripping ! Angus Young has a style all his own. He's my kind of guy."
"BEST I EVER HAD (GREY SKY MORNING)" Vertical Horizon, Everything You Want, RCA, 1999
"I dig this entire album. (Singer/guitarist) Matt Scannell's songwriting is phenomenal. The economy of the arrangements makes everything clear and easy to absorb and understand. For a youn band, they're very mature."
GUITAR WORLD, September 2001
---
---
---